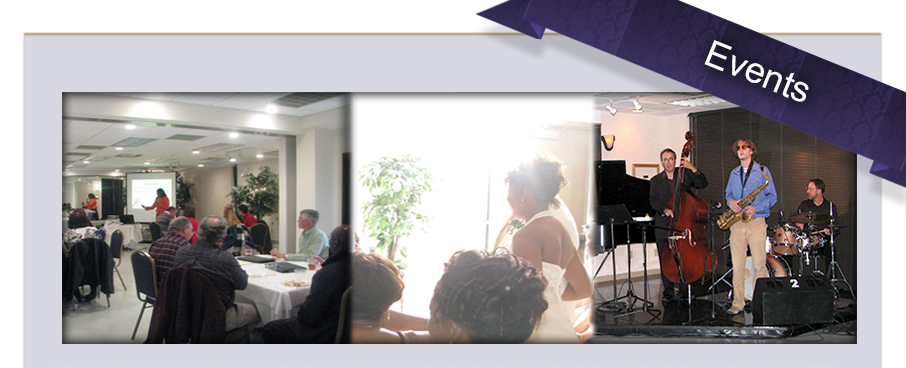 We host a good variety of events here at Consortium Venue. We realize specific events may require different services and features. We provide packaged information about our services and features designed specifically for your event.
It's A Bridal Affair-

consists of information for specific events from bridal showers, rehearsal dinners to the reception, exclusively for the Bride-To-Be

Celebration-

highlights information of interest for birthdays, anniversary, retirement, & more

Family & Class Reunion-

gives detailed information for meeting times, Friday casual night, dinner and dancing on Saturday, to bon voyage Sunday

YES! We Are Open for Business-

takes care of all the corporate events; workshops, seminars, luncheons, cocktail receptions, and much more
PRICES AND FEES:
Building Rental Fees- the prices for rental of our venue vary depending on the date of the week, the time and the type of event
Rate are determined by day and time of use. Monday – Friday daytime, Friday night, Saturday before 5:00pm, Saturday after 5:00pm & Sunday
Flat Rates are provided for Friday & Saturday nights and Sundays
Hourly rates are provided for Monday – Friday and Saturday before 5p which may vary depending on the event
Deposit is generally $500.00. Some events require the deposit of half of the total cost
Proposed prices are provided for catered events as well as non catered events
Taxes of 8.6 percent and 20 percent gratuity is added to all food and beverages
Other Service fees may range between $50.00 and up
*****Prices and fees are subject to change*****
FREQUENTLY ASKED QUESTIONS:

click on question to reveal answer
What is the seating capacity? >>>
We seat 125 guests comfortably.
What is the deposit used for? >>>
The $500.00 deposit is used to secure the date, which is a credited toward the total cost.
How many tables are used for maximum capacity? >>>
We use approximately 17 tables for 125 guests.
Can I bring in alcohol? >>>
We provide a fully stock bar with a bartender on staff. No outside alcohol is allowed.
Is it an additional fee to bring my own cake? >>>
There is no additional fee to bring in your cake. We allow you to have your dessert customized for your occasion. There is a cake cutting fee of $25.
What's included in the block time? >>>
The block time for most events is (4) hours with an additional (2) hours to decorate and (1) hour clean up.
Where are we located? >>>
—————Consortium Past Events—————
City of Shreveport, Greater Shreveport Chamber, LA Legislators Black Caucus, NAACP, Shreveport Bossier African American Chamber, U.S. Citizenship, AEP Swepco, Access Midstream, Frito Lays, Wyndham Hotel
Associations: Alzheimer Assoc., Ebony Golfers Assoc., North Shreveport Business Assoc., Veterinarian Medical Assoc., MLK Community Development, Pipeline Assoc., Shreveport Chapter of the Links, Top Ladies of Distinction, Zeta Phi Beta Sorority 
Schools: Alcorn, Grambling, and Green Oaks Alumni, BTW, Captain Shreve, Huntington Reunions, Southern University Shreveport
Churches: Abounding Faith Temple, Church of the Living God, Mt. Olive BC, Lake Bethlehem BC, Steeple Chase 
Elected Officials: Mayor Cedric Glover, Senator Gregory Tarver, Former Senator Lydia Jackson, Rep. Patrick Williams, Ccw- Rose McCulloch, Cm- Sam Jenkins
Entertainment: Kim Waters, Michael Ward, Randy Porter Trio & Jazz Pianist, Jimmy Gray, Muzikology & last but not least, Altar Ego
We Appreciate Your Business!
—————Upcoming Events —————